Using virtual reality in your business may be one of the wisest decisions to take at this time. From employee training, through gaming, to outpatient care, virtual reality is making real impacts. The technology meets the needs of the changing worlds and the VR market has already reached over $30 billion. However, if you want to make your proper start with VR, you need to carefully choose a virtual reality studio. How to choose the right VR development agency then? Keep reading to get some useful tips.
Why is choosing the right virtual reality studio crucial?
In 2020, the virtual reality software market size worldwide doubled when compared to 2019 (moreover, in 2019, it tripled the size when compared to the year before). It seems that the trend will continue. VR technology has definitely immense possibilities in different spheres. It is used in healthcare, where advanced VR solutions help treat anxiety disorders and PTSD. It speeds up recovery and helps patients reduce stress and pain. It helps students experience lessons they can't possibly try in real life. Travel agencies and hotels boost their sales by demonstrating VR vacation demos. 
Any business in the world can now take advantage of virtual reality, but first… a perfect VR development agency must be found to execute the idea. 
Choosing the right virtual reality studio is a little like baking a cake – you need the right ingredients in a perfect proportion to go with the correct equipment. If you don't find the agency that fits, your perfect idea can easily turn into failure. On the other hand, when you find the right fit, your business idea will have a better chance of succeeding. Here is a bulletproof checklist to verify a VR agency with whom you will potentially work with.
Market presence is key
The first step when you are browsing dozens of VR studios is checking the market presence of each of them. By market presence, we mean the website, social media, resources, blog, etc. 
Before you go into details, it's reasonable to check if the content they create makes any sense. The company's website is its face – it should contain a description of services provided and examples of projects completed. 
It's extremely rarely the case that a professional virtual reality studio has a large stream of customers and no time for self-promotion. Need an example? When you visit the 4Experience blog, you will find lots of technical articles that prove the knowledge of our developers and artists. High-end technology companies definitely should produce in-depth technology and business content which demonstrates that a real team is working and has enough experience to share expertise with others.
Portfolio 
While talking about VR software development, a portfolio may mean everything to potential clients. Our past experiences shape who we are today after all. Similarly, every VR agency's prior work defines its portfolio and credibility. And it makes great sense – before you invest in expensive software and technology, you should take into account proof of concept. Unfortunately, VR is still a bit exclusive which means it's harder to find a VR development agency that has dozens or hundreds of projects in the portfolio.
Here's a tip: try searching for VR teams that have developed some good visually attractive projects. Check how much experience they have in VR technologies. 
Read the case studies of their projects if they are available or ask for a summary of such. Go through a few of the past projects to get an idea of the type of VR solutions the developers have worked on. Make sure about the ability to deliver. 
At 4Experience, we have completed over 150 projects so far (virtual reality, augmented reality, mixed reality). Among our clients, you will find e.g. Ford, Omron, Tauron, Strabag, Viessman, Spetech, DPD, Creative Union and many more. Check our inspiring AR and VR projects here.
Team and technology 
Make sure you find a virtual reality studio that puts pressure on constantly improving the development process. Today, communication and quality of service are more important than price for customers. The most popular areas in IT to have similar processes are SCRUM/Agile development process and project management tools (Asana, JIRA, Trello). 
Your VR team should be accessible to you and you should be able to communicate with them daily during normal working hours. 
So, when looking for a VR development agency, inquire about methodology, development stages and the team members (mid- and senior developers, PMs, QAs, etc.). At 4Experience, we work with Agile in mind. The main advantage is in iterative, step-by-step development and maximum involvement in the process. At the end of each period of time, the client receives results. Our company has been rapidly growing – we have employed 12 new people since the beginning of the year and now we hire over 40 talented professionals. 
Surf for opinions
The company's market reputation will give you an idea of the quality of their service. So, before jumping into anything, know who you are going to work with. Find the virtual reality studio (or VR developers) on the most popular external catalogs like Clutch, Goodfirms. 
Check whether they are really that good – some agencies may appear great but further digging may reveal you have wrong struck. 
Look at LinkedIn, ask for opinions, check reviews to get some different points of view. Explore marketplace testimonials to have a better feeling for how the agency deals with people. It is so much better to thoroughly research who you're about to work with than be surprised later.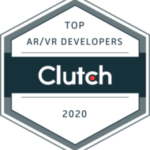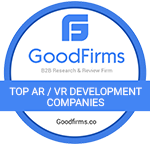 Is the agency willing to share knowledge?
Always look for specialists who can provide active support. At each and every single stage of the project, you may need some additional installations, updates and fixes. 
Whenever you need new features for upgrading your VR project, your VR development agency should be there for you. 
You should look for a partner that will provide seamless support and have a problem-solving approach. Emphasize upon their willingness to share their knowledge and good communication skills. Don't choose a team of geeks completely isolated from the rest of the world. 
Technical skills are of course of the utmost importance, but communication skills are equally important. 
If you want to check what collaboration with the VR development team looks like, try reaching out to the clients testimonials and opinions who commissioned their projects before. This is what some of our customers have said about 4Experience:
4Experience remains the best remote software team that I've worked with. The team is readily available to help me with problems or tech support. It's been a pleasure!

The team is accessible, responsive, and proactive on all fronts. I appreciate being able to send messages even after office hours and have a steady stream of feedback.

Service quality excels at 4Experience. We don't have to stress about time zone differences, language barriers. Highly value team members' ability to voice problems, ideas and solutions and feel like they're part of our internal team.
Summary
Summing up, finding an experienced virtual reality studio may be quite a tricky challenge. Expertise in the VR tech stack you need, enough resources to provide you with ongoing support, impressive solutions in the portfolio, this might be really hard. To make it much easier for you, let's refresh your memory and sum up the key takeaways from the article:
Always check the portfolio – this is something a VR development agency should show to the audience with pride.

Make sure the agency you want to start a collaboration with is market present. Also, check the opinions about them on the net.

Thoroughly verify the team and the technology they use – this must fit your expectations. 
Still haven't found the agency you're looking for? Check what we have to offer!