Find out more about us
Get to know our values and principles
We help businesses gain a competitive advantage with AR/VR technology and software development.
4Experience VR Studio: Skills & Expertise
Virtual and augmented reality development is our core competency. We offer full-stack solutions and software development services at the highest quality, on all existing platforms and devices. We believe that various experiences of all team members may improve the process of AR VR content development, and each of us can contribute our own, creative element.
Modern tools enable us to manage projects created for customers from around the world. 4Experience is a team of passionate, experienced, and self-driven software experts, as well as engineers, who can extend your team or independently deliver custom-tailored solutions.
Core competencies
59 % VR content development
28 % AR content development
13 % Research and Consulting
4Experience VR Studio: Mission
Thanks to our knowledge and skills in creating and implementing 3D applications, with a strong focus on Virtual & Augmented Reality technologies, we solve real-life challenges. Our company values set high standards of external and internal cooperation. This allows us to release our clients and partners business potential.
The scope of projects that we develop and implement is wide - from games, simulations, to medicine, rehabilitation, education, and extensive employee training. We use our knowledge and experience to provide the best solutions in VR and AR technology for companies.
Companies from all over the world have trusted us - will you?
Company Values
We are self-driven growth-oriented professionals who constantly innovate and grow the
company's offer and capabilities.
Our practical experience allows us to provide world-class solutions that help our clients'
businesses grow. The holistic approach towards projects combines best expertise from various
fields like engineering, gaming, design, psychology, marketing and more.
We build trust with transparency. We rely on pure intentions, clear and true information.
Our experience has taught us that it is worth listening to feedback.
A positive outlook and enthusiasm, doing what it takes and inspiring others to do the same.
Good approach and atmosphere affect work efficiency which helps us build strong and
long-term relationships.
Within 4Experience, we build mutual trust which gives a sense of stability and security.
We work as a team to achieve our goals in the best possible way.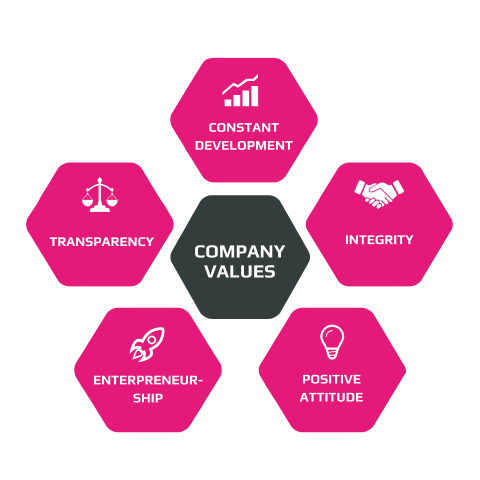 Contact us and start your adventure with virtual reality today
4 SYNERGY
We are a VR studio and a VR team - we work together to achieve better results.
Through cooperation and synchronization, we build organized teamwork that is always better than the sum of the efforts of individual VR developers. Together, we see more solutions and we can choose the most effective. The development of VR content is our mission - we proudly participate in building the future of business!
Our company is a lively place where we meet and work together on ideas that are worth it. And your idea is definitely like that! In our VR studio, you will make your concepts come true.
4 QUALITY
We are professionals. Being a developer in our company is a great responsibility, but also a huge adventure. Creating AR / VR content development requires more and more talented people. The activities of our VR studio are a comprehensive approach and the best ideas!
Every day in our VR studio we work hard to be useful in today's and tomorrow's market to create more and more valuable products and experiences. We improve our skills to provide our clients with the highest quality of VR content development.
We love it!
4 IMPRESSION
There is no substitute for hard work, but every work can be optimized to bring better results. We are not robots, but a dynamic mix of VR Developers, Project Managers, 3D Artists, QA Testers, entrepreneurs, enthusiasts, also the entire office, sales, and marketing team.
We laugh and play and share a common passion for the technology of tomorrow. We value communication and commitment – in our VR studio we consider them as our key strengths but above all we value challenges. Can we call it the rule of 3 C's? A Challenge, Communication, and Commitment. Yes, we can! Nothing is impossible for our VR studio team.
4 EXPERIENCE
While creating our outstanding AR/VR content development, we rely on the competencies of experts who have been participating in the virtual revolution for years. We remember conventional solutions, but at the same time, we look for the best ways to achieve the goal. Not those that are complex, but those that are understandable.
You want to make a change – you shouldn't be afraid – you have to seize the opportunity!
You want to make a change, we want to make a change – you shouldn't be afraid – you have to seize the opportunity!
Tell us about your project!